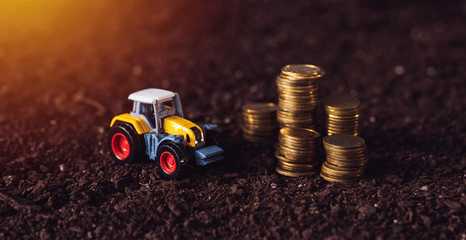 Equipment Financing:
How To Get Equipment Loan Options In Minutes?
There comes the point in every small business's development cycle when they need to invest in a critical piece of equipment.
Still, the numbers say that 60% of Australian small businesses face cash flow issues yearly. Hence, it may be challenging to obtain the funds when a company wants to replace outdated equipment, modernise current equipment, or do both. Due to this, many small business owners that need equipment and machinery seek funding from other sources.
Indeed, equipment loans are game-changers when funds are thin on the ground.
If you're a business owner contemplating an equipment loan, you can make a wise and strategic choice if you understand everything there is to know about this type of financing.
Here's our expertly curated guide of all things equipment loans to help you out.
Key takeaways you'll get from this guide:
What Is An Equipment Loan?
An equipment loan is a popular financing option for businesses that need to buy new equipment, upgrade outdated machines, or replace damaged ones but lack sufficient resources. Most of the time, the monthly loan payments may be covered by the first revenue from the purchased equipment. In contrast to secured loans from conventional banks, which require business owners to submit their assets as security, equipment loans are thus a more wise financial choice.
Equipment Loans Increasing Adoption Rates In Australia
Australians have long been big fans of equipment loans, partly because there are so many companies in the construction sector but also because commercial equipment is quite expensive compared to the little cash flow that small businesses often experience. According to a poll done in 2021 by Banjo Business Loans, 26% of SMEs now have equipment/asset financing agreements in place. Also, the third most common measure taken by the 1 out of 4 companies that exceeded sales goals in a turbulent 2020 was to buy new important assets or equipment for the company.
What Are The Different Types of Equipment Loans?
Small and medium-sized enterprises (SMEs) have a variety of alternatives that enable them to get the equipment they need for their operations. Among them are the following:
1. Equipment Hire Purchase
When your company purchases equipment under a hire purchase agreement, you make monthly payments over a set period, and the equipment is technically yours when the loan term ends.
Your financial statement shows the obligations for hire purchase (as well as the asset you bought with the financing). Consequently, the equipment is treated as "owned" even if you haven't paid off the purchase price yet
Moreover, if the amount is not paid in full and interest has accumulated, a residual value compensation may be necessary at the end of the lease.
2. Equipment Operating Lease
The ideal option is an operational lease if you won't need the equipment for the whole duration of its useful life. The equipment may be leased for several years as required, but the borrower must return it to the lessor after the lease time.
Throughout the lease term, the lender—who continues to be the equipment owner—pays for all necessary maintenance. It is essentially a renting agreement, to put it another way.
3. Equipment Financial Lease
A financing lease is another type of equipment funding that also includes a loan time, but the small business would often make an "offer to purchase" to the lessor to buy the equipment at the termination of the lease.
4. Novated Equipment Lease
‍In a novated lease, the employee, employer and the leasing provider enter into a lease agreement, with the employer bearing the cost. It enables the employee to find a piece of equipment or a car they can use and have it paid for using pre-tax income. Although the company manages the payments, the employee owns the lease obligation.
Understand your business needs, budget, and the benefits the equipment can add to your business to help you choose the right equipment loan. Nevertheless, here's a brief explanation of how equipment loans work for your reference.
‍How Equipment Loans Work?
Banks or equipment financing businesses provide equipment loans to business owners to finance the acquisition of essential equipment items. A company can directly save money by taking out loans to buy new equipment and spreading the instalments over time. Additionally, the borrower can gain better interest rates by utilising the purchased equipment as security since banks see these loans as lesser risk.
Typically, equipment loans are used to buy items with long-term worth, like:
Heavy machinery: Equipment used in agriculture, such as tractors, along with equipment used in manufacturing, such as computer numerically controlled (CNC) machinery, plate rolling, and construction equipment
Specialised equipment: medical devices including diagnostic equipment and X-ray
Commercial vehicles: Vehicles like trucks, vans, and box trucks.
Other equipment: equipment used in restaurants, such as stoves and ovens; and offices, such as laptops, computers, and printers
Equipment Loan Term And Interest Rates
Borrowers with good credit may anticipate interest rates between 6-9%, while those with bad credit should brace for rates as high as 30 %. Loan terms for equipment typically vary from one to four years, but they may extend as long as 10 years depending on the kind and cost of the purchased equipment with the money borrowed.
Qualifications For Equipment Loans
Although banks and lenders have their own requirements for lenders to receive an equipment loan, there are some standard parameters borrowers can anticipate to satisfy.
Typical loan amounts vary from $10,000 to $500 000, with durations of up to 10 years and interest rates of 6 to 9 %. The down payment for purchase should be approximately 5% to 20% of the total loan amount. Lenders often demand collateral for the equipment being bought and credit ratings of at least 600.
Are the rates and terms amenable for your business? If you think it is, read the tips below to get a higher chances of getting your equipment loan approved.
How To Get Your Equipment Loan Approved?
Othera PQ reports that 60% of the small business loan applications are rejected yearly. You don't want to apply for a loan and get rejected in the end, right? Improve your chances of getting approved by considering these tips.
1. Know What Paperwork Is Needed For An Equipment Loan
There will be much less documentation required if a business applies for a conventional equipment loan than a speciality loan, like an SBA loan. Lenders will ask for any or all of the following papers when you apply:
Equipment Invoice: You must provide an estimate for the equipment and any other additional soft charges.
Bank Statements: To demonstrate the business's cash flow, you must provide up to three months' worth of bank statements.
Tax Returns: Lenders typically demand one to three years of tax records.
Financial Records: A financial statement that includes assets and liabilities, as well as earnings and losses, is necessary.
Other: It could be necessary to have business permits and other paperwork.
2. Know Your Equipment's Additional Costs
There will be other expenses for the new equipment in addition to the monthly payment, such as maintenance, insurance, and storage. These fees may increase monthly spending in the following ways:
Insurance: Depending on the equipment, extra insurance may need to be purchased, or premiums may need to be added to an existing policy.
Maintenance: This is the monthly expense for keeping the machinery in peak condition and compensating for typical wear and tear.
Wages: The company may need to employ someone to operate the equipment.
Storage: The equipment's cost may rise if it requires special storage.
3. Understand How The Equipment Will Increase Your Revenue
Even if buying new equipment comes with more significant costs, there should also be additional financial advantages. Determine how much the new equipment will improve operations, reduce the time required to accomplish activities, or boost production. Over time, they will accumulate concrete advantages and lenders would want to know how.
Have you made up your mind to apply for an equipment loan? In 2021, 65% of SMEs planned to buy a new equipment and the number is growing this year.
If you're one of these businesses, here's a pro tip for you—don't call your local bank or your trusted lender yet if you haven't weighed the pros and cons of availing an equipment loan.
Put on your tin-foil hats and dive deeper into the advantages and drawbacks of getting an equipment loan.
Pros Of Equipment Loans
Easy to Acquire: Since the collateral for equipment loans is already included, there will be less risk for the bank or lending institution. You may be approved more quickly as a result.
Maintains Cash Flow: Equipment loans generally come with no down payment borrowing, one of its most delicate features. As a result, you may use your operating capital to meet other urgent demands.
Increases Net Value: Equipment loans can immediately improve your net value while safeguarding your cash flow.
Increases Sales: An equipment loan is an obvious choice if you've done your homework and that particular piece of equipment is everything you need to advance your company. Your revenue will rise as a result, but it won't significantly impact your operating capital.
Tax effectiveness: Some forms of equipment financing, such as equipment leasing and novated lease arrangements, are more tax advantageous than outright purchases. This is so because renting an item results in a monthly cost instead of an asset showing up on your accounting records.
Cons Of An Equipment Loan
They Are Only for Capital Use: You may only use an equipment loan to pay for the equipment that is stated when you use it. That implies that you cannot use it for running costs or other purposes.
You May Purchase Unnecessary Equipment: Lack of research might result in you buying a piece of equipment that won't pay for itself, which could be detrimental to your business.
Who Can Benefit From An Equipment Loan?
Most businesses, no matter how large or small, need business financing. If a new startup business lacks the cash flow to pay for costly but necessary equipment to get going, it may require equipment financing.
Established companies may also need equipment financing to spread the acquisition expense over time rather than paying it all at once, which would deplete their operating capital. This frees up money you may use to develop and improve other parts of the business, including recruiting personnel. Additionally, there are tax advantages.
What Sectors And Businesses Utilise Equipment Loans?
Industry and sector eligibility for equipment financing is almost infinite. We can help you in financing the following types of equipment:
Construction
Pubs and bars
Events and marquee
IT and office supplies
Restaurant and delivery
Healthcare and medicine
Food production and farming
coffee store, bakery, and café
Air conditioning and refrigeration
Equipment for a mechanic or garage
Laundry and dry-cleaning equipment
Production and large-scale industries
Shelving and equipment for warehouses
Buses, vehicles, vans, trucks, and hauling
Why Should You Use ( Insert Business Name Here) For Equipment Finance?
✔️ We've built a reputation as Australia's leader in providing equipment loans.
✔️We can provide you with the best equipment loans because of these connections.
✔️ We tailor the rates and terms of your equipment loan to fit your cash flow.
✔️You may spend the money immediately since our application and approval processes often take less than 24 hours.
✔️You will always come first for us along the process.
Bad Credit History?
Don't stress over it. We have a long history of arranging business equipment loans for borrowers with poor credit histories. Partnering with us guarantees that you can get an equipment loan regardless of your credit history.
What Should Be Your Next Step?
If you believe you may need equipment financing to operate or expand your company, contact our team of specialists to explore your possibilities.
If Money Is The Problem, Make Us The Solution—We Provide Better Solutions For Your Financial Needs
With alternatives, speed, and trustworthiness, (Insert business name here) aims to make equipment loans easy so that you can take your business to new heights.
Take advantage of our equipment loan if you want to buy equipment with regular payments, no balloon payment at the end, and transfer of ownership after completion.